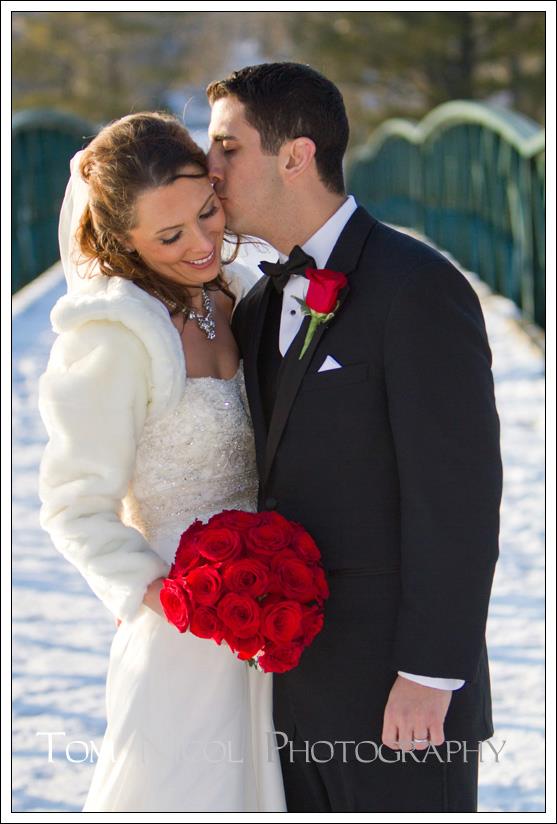 I was thinking this morning, how did we get so lucky to have had so many winter weddings this year? Looking back at some of them, I recall thinking they were some of the prettiest and more unique receptions we have had all year. Really, there are tons of reasons to have a winter wedding…below is listed what we think are te top ten. What do you think?
10. Comfort Food
You can switch up to heartier fare. Try a sausage stuffed pork chop with cranberry chutney and wild rice, or a juicy charbroiled steak with a port wine reduction, and a classic baked potato, frosted with sour cream. Yum!
9. "Less is More"….in Décor
Most facilities will have more lavish décor in the holiday months. Less for you to do, means more money in your pocket.
8. Floral Arrangements
Your floral choices in the winter are exceptional. You can create a fresh style that has not been over-done all summer long.
7. Candlelight
Nothing is more romantic than a completely candlelit ceremony. You can't do that in the middle of May!
6. Unique Wardrobe Options
Fun-fur wraps, velvet dresses, crystal ice-like jewelry, rich jewel tones, gold and silver accents, all seem perfectly placed in this frosty time of year…..
5. Gorgeous Outdoor Pictures
Some think you can't do outdoor pictures in the winter. au contraire; everyone looks fabulous with rosy cheeks. And, an overcast sky, means no squinty eyes, and the cooler temps, means no runny make-up or heat related sweats.
4. Better Attendance
Your guests won't miss your wedding due to summer vacations, graduations, first communions, or even worse, someone else's reception…
3. More Excited Guests!
It gives your friends something to look forward to after the "holiday party let downs".
2. The Best Vendors
Even the hard-to-get vendors have more availability during the slow periods. So, you have a better chance of getting the best vendors and facilities.
And the number one reason to get married in the winter!
Price, price, and did I say price? Almost all vendors will negotiate with you during the winter months. From the baker to the florist, and reception venue to the hotels, you can usually benefit from reserving them in the cooler months. And, that, you can take to the bank!