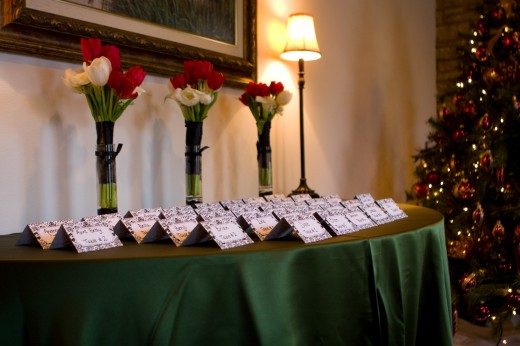 What a glorious day it is outside! When I need to take a bit of a break, and frankly, even when I don't need a break, I tend to go out and walk the gardens in our courtyard. While gazing at the beautiful blooms, I ran into Tara Vanderheyden, owner of Invitations by Design. We run into to each other often since we are neighbors; she opened her new store location last fall in the very same beautiful courtyard. It is so awesome to have her here, since many of our brides use her for invitations as well as a whole line of "day of" amenities. Just last week she supplied the cutest baskets that were coordinated with the entire theme of the wedding. I asked her where she sees this trend going, and this is what she told me:
"Brides really like to express their personalities through their weddings. They start with their invitations, which act as the introduction of their event. This gives their guests the "feel" of the event and what to expect on the big day. They want something unique to their wedding. They're looking to express themselves through their invitations. This fun, unique style carries to their wedding day as well, with matching seating charts, table numbers, welcome baskets, favor boxes and more. All the little details really bring the event together."
She said it well. The events that I have seen of Tara's have been fun as well as adorable and functional! But better yet, they really do reflect the personalities of the bride and groom. It really does give your event a custom look. Next time you are here, check out 'Invitations by Design'!